Read
GeoStories
& be part of GemLand at:


INTERACTIVE
MAPS
for
GeoScenery:



Website
Sections:
INTERACTIVE MAP:

The Superstition Mountains
and the Landscape of Central Arizona

"There are mountains which are just mountains and
there are mountains with personality." --- Lama Anagarika Govinda


Rising just to the east of the Phoenix metropolitan area is one of the most spectacular ranges in central Arizona, or in the United States, for that matter -- the Superstition Mountains.

A wilderness of rugged, surrealistic beauty, these cactus-strewn mountains are inhospitable and desolate, as well as the setting for one of the American West's lingering and most endearing legends -- that of the Lost Dutchman's Gold.

But there is more in this region than just the Superstitions. The jagged skyline of Four Peaks in the Mazatzal Mountains produces some of the finest Amethyst in the world.

The string of lakes in the golden chasm of the Salt River Gorge offers cooling views of deep blue waters.

And the Apache Trail is one of the Phoenix area's most scenic day-drives. On the way back to town, you can take in the giant copper mines of the Globe and Miami region.

Explore the map below! Click on colored names for some great views, geological information, and recommendations for the most scenic settings and landscapes. Each name connects you to a scene or series of scenes. Find out why the Phoenix area is such .

NEW --
Read about the ancient
of the
Superstition Mountains!

If you like rocks, gems,
geology, & stars in the sky,

to our FREE EMAIL NEWSLETTER.

Sample images from Map below --

CLICK ON A NAME ON THE MAP!
Consult the "" popup window if you want more information on the map project itself.

There are currently 30 different views, woven together into a virtual tour of the Superstition Mountains area. More new pictures are being added all the time.

The derivation of the name "Superstition" is uncertain. One version has it originating with the Spanish explorer Francisco Vasquez de Coronado in the Sixteenth Century.

The Apache Indians in the area had warned him about disturbing the abode of the spirits, and indeed, many have died in their attempts to find rumored riches within the craggy canyons there.


The location
of the map below
within Arizona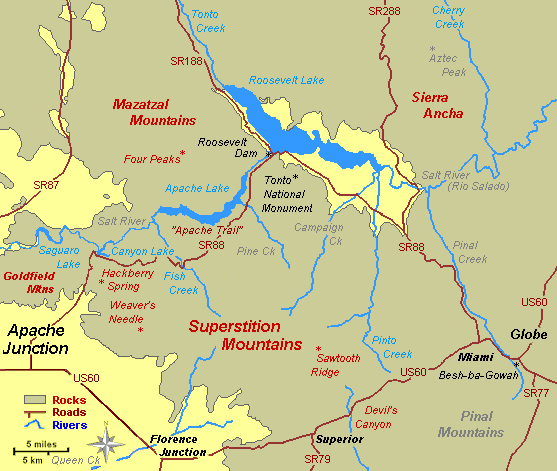 The area shown above measures about 50 miles (80 km) West
to East, by 40 miles (64km) North to South, and encompasses approximately 2000 square miles (5200 km).

This map and all contents (C) 2014 by Richard Allen. All rights reserved.
Looking east (current image, usually updated every 15 minutes), from the Mesa area. The Superstition Mountains are the highest ones, just right of center. To their left, and slightly closer, are the Goldfield Mountains.
View courtesy of Arizona Department of Environmental Quality, at Phoenix Visibility Web Cameras.
ON THIS MAP:

GemLand can be contacted at info@gemland.com.
Questions about this site or its design? Contact the webmaster.


--<{([011514])}>--